Big Brother Minecraft
Season 4.5 (April 2017)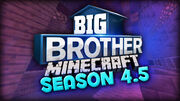 Houseguests
Name
Entered
Exited
     
Seth
Day 1
Day 84
Chief
Day 1 
Day 84 
 
Sarah
Day 1 
Day 84 
 
Coco
Day 1 
Day 77 
 
Bobby
Day 1 
Day 70 
 
Nick
Day 1 
Day 63 
 
Chelsea
Day 1 
Day 56 
 
Brady
Day 1 
Day 56 
 
Gavin
Day 1 
Day 49 
 
Toad
Day 1 
Day 42 
 
Josh
Day 1 
Day 42 
 
Andrew
Day 1 
Day 35 
 
Platinum
Day 1 
Day 28 
 
Rob
Day 1 
Day 21 
 
Infernox
Day 1 
Day 14 
 
Gupta
Day 1 
Day 1 
 
Winner
Runner-Up
Jury Member
Evicted
Walked
Volunteer Twist: On move-in day, the houseguests were offered to leave the game and Wusty and Foration decided to both leave the game. Andrew, the Host of Big Brother Minecraft, and Chief from Season 4 both entered the game as houseguests because of this twist.
Hit The Road: The houseguests all played in a competition to see who would become HoH, but at the same time, whoever placed last in this competition was forced to be evicted from the game. Gupta lost and was evicted.
The Sabotuer: One HouseGuests will be chosen by Production as the Saboteur. The Saboteur will commit acts of Sabotage every week. The Saboteur was Chelsea, and her reign of Sabotage ended Week 5.
Saboteur Instant Eviction: On Week 5, a new HOH would be crowned, and they would have to instantly name their two nominees. The veto would not be played, and the Saboteur would have the sole vote to evict.
Care Packages: The viewers of the livestream got to vote for who they wanted to give care packages to during the stream. The care packages contained special advantages to ones own game.
Houseguests
Edit
Voting History
Edit
Week 1

Week 2

Week 3

Week 4

Week 5

Week 6

Week 7

Week 8

Week 9

Week 10

Week 11

Day 1

Day 14

Day 50

Day 56

Day 84

Finale

Seth
Ineligible
 
Rob
Vetoed
Platinum
Andrew
Ineligible

 
Brady
Sarah
Nick
 
Coco
 
Winner
Chief
Ineligible
Seth
Rob
Platinum
 
 
Ineligible

Gavin
Brady
Chelsea
 
Bobby
 
Sarah
Runner-Up
Sarah
Win
 
Rob
Rep
Andrew
Ineligible

 
Vetoed
Brady
 
 
 
 
 
Seth
Coco
Ineligible
Infernox
Rob
Platinum
Andrew
 
Sarah
 
Sarah
Vetoed
Nick
Bobby
 
 
 
Seth
Bobby
Ineligible
Seth
Rob
Platinum
Andrew
Ineligible

Vetoed
Gavin
 
Chelsea
Sarah
 
 
 
Seth
Nick
Ineligible
Seth
Rob
Platinum
Andrew
Ineligible

Gavin
 
Chelsea
 
 
 
Chief
Chelsea
Ineligible
Infernox
Rob
Sarah
Andrew
Josh
Gavin
Brady
 
 
 
Seth
Brady
Ineligible
Infernox
Sab Rep
Ineligible

Andrew
Ineligible

Sarah
Rep
 
 
Chief
Gavin
Ineligible
Infernox
 
Platinum
Andrew
Ineligible

Rep
 
 
Seth
Toad
Ineligible
Vetoed
Seth
 
 
 
 
 
 
Josh
Ineligible
Infernox
Vetoed
Rob
Sarah
Andrew
 
 
 
Andrew
Ineligible
In Isolation
Toad
Ineligible

 
 
 
Platinum
Ineligible
Infernox
Rob
 
 
 
Rob
Ineligible
Infernox
 
 
 
Infernox
Ineligible
Rep
 
 
Gupta
Loss
 
 
| | | | | | | | | | |
| --- | --- | --- | --- | --- | --- | --- | --- | --- | --- |
| Key: | Nominated | HOH | POV Holder | Immune | Jury Member | Evicted | Walked | Hit The Road Winner | The Saboteur |
Big Brother Minecraft Seasons
Episodic
1 · 2 · 3 · 4 · 5
Streamed
4.5
Ad blocker interference detected!
Wikia is a free-to-use site that makes money from advertising. We have a modified experience for viewers using ad blockers

Wikia is not accessible if you've made further modifications. Remove the custom ad blocker rule(s) and the page will load as expected.