Big Brother Minecraft
Season 3 (Winter 2016)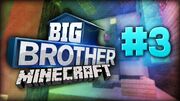 Houseguests
Name
Entered
Exited
     
Alec
Day 1
Day 70
Thomas
Day 1 
Day 70 
 
Gunner
Day 1 
Day 70 
 
Marty
Day 1
Day 29 
Day 14
Day 63 
 
Parker
Day 1 
Day 56 
 
Jake
Day 1 
Day 49 
 
Maddie
Day 1 
Day 49 
 
Ash
Day 1 
Day 42 
 
Mason
Day 1 
Day 35 
 
Zakk
Day 1 
Day 28 
 
Jesse
Day 1 
Day 24 
 
Glenn
Day 1 
Day 21 
 
Winner
Runner-Up
Jury Member
Evicted
Walked
Returning Players: Five "All-Stars" from Big Brother Minecraft 2 returned to compete once again this season.
Battle Back Competition: A competition that gave the three Pre-Jurors a chance to re-enter the game. The first round was a battle between Marty and Glenn. Marty won this round and advanced to the final round. The final round was a battle between Zakk and Marty. Marty ultimately won the final round and re-entered the house.
Pandora's Box: Pandora's Box tempted the current Head of Household with either a curse or a gift.

Nomination Curse: Alec was given the option of keeping a magma cream or giving it away, the powers of the magma cream giving him the ability to nominate one HouseGuest as a special third nominee. Alec gave the magma cream to Ash, and she ultimately nominated Marty.
Houseguests
Edit
Voting History
Edit
Week 1

Week 2

Week 3

Week 4

Week 5

Week 6

Week 7

Week 8

Week 9

Day 43

Day 49

Day 70

Finale

Alec
Glenn
Glenn
Vetoed
Jake
Mason
Maddie
 
Rep
Vetoed
Jake
Parker
 
Gunner
Winner
Thomas
 
Vetoed
Glenn
Jake
Mason
 
Maddie
Vetoed

Jake
Vetoed
Parker
Vetoed
Marty
 
Runner-Up
Gunner
Marty
Glenn
Ineligible

 
Ash
 
Nominations
Void
Jake
 
Rep
 
Alec
Marty
 
Cursed
Maddie
Maddie
Nominations
Void
DPoV Rep
 
 
 
 
Alec
Parker
Marty
 
 
In Solitary
Confinement
Vetoed
Ash
Vetoed
Maddie
 
 
Rep
 
 
Thomas
Jake
Glenn
Parker
Rep
Mason
Ash
Maddie
 
 
 
 
Alec
Maddie
Marty
Glenn
Zakk
Marty
Rep
Rep
 
 
Alec
Ash
Marty
Glenn
Zakk
Marty
 
 
Alec
Mason
Marty
Glenn
Zakk
 
 
 
Thomas
Zakk
Glenn
 
Eliminated
 
 
Jesse
Marty
Parker
 
 
Glenn
Rep
Eliminated
 
 
| | | | | | | | | |
| --- | --- | --- | --- | --- | --- | --- | --- | --- |
| Key: | Nominated | HOH | POV Holder | Jury Member | Evicted | Walked | Battle Back Competitor | Diamond POV Holder |
| | | |
| --- | --- | --- |
| Key: | New Players | Returning Players |
Game History
Edit
Big Brother Minecraft Seasons
Episodic
1 · 2 · 3 · 4 · 5
Streamed
4.5
Ad blocker interference detected!
Wikia is a free-to-use site that makes money from advertising. We have a modified experience for viewers using ad blockers

Wikia is not accessible if you've made further modifications. Remove the custom ad blocker rule(s) and the page will load as expected.